Marine Debris Prevention
No Need For Plastic Bags ....

Single use plastic bags from the supermarket or store can have monstrous effects in the environment. There are dozens of frightening facts about them.
They're made of polyethylene, which is a petroleum product. Four to five trillion are manufactured each year. (Americans alone use 380 billion of these bags.) Only 1% are recycled.
And it takes 1,000 years for these bags to break down -- and that is a misnomer, because the bags simply break into smaller and smaller pieces, releasing harmful toxins and creating tiny toxic plastic bits that find their way into the bodies of birds, marine life and animals.
Marine wildlife is at particular risk to health problems or death due to encounters with plastic bags. It's estimated that 100,000 marine mammals die yearly by eating plastic bags.
Single use paper bags can be equally as ghoulish. Every year, the United States consumes 10 billion paper grocery bags, requiring 14 million trees. (By Kelly Vough, Manager, Pacific Whale Foundation)
---
Public Service Announcement: Dispose of waste properly.
A message from Mariana Islands Nature Alliance (MINA) and paid for with a grant from NOAA Marine Debris Prevention Program.
MINA's No Need Bag Campaign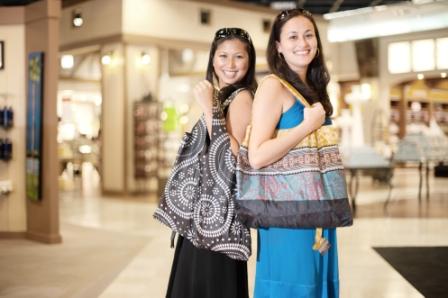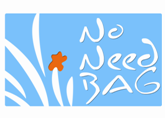 Credit: Photo by John Kyle; Eco-bags by handbags etc; Location - Duty Free Shoppers; models are Kristy Springer & Rachel Fusco; Logo by Lisa Huyhn-Eller
What you can do to help eliminate the use of plastic shopping bags.
Begin with yourself - don't use plastic bags, wherever, whenever! And then ... encourage others;
Start small - say "no" to plastic bags when purchasing 2-3 small items only or carry what you can without plastic bags;
Use reusable bags - Use tote bags or eco-bags. Start a trend here in the CNMI. Be one of the few that are starting to use reusable bags and begin promoting it. This is your chance to make a difference. Tell your friends, encourage your family, and talk about it among your peers. And if you are using reusable bags - keep it clean by washing it when necessary.
Use boxes - You've done it before ..... while shopping at Costco or at the Joeten Price Club. They don't give out plastic bags there. Continue that same practice wherever and whenever you shop;
Encourage your favorite grocery store(s) to stop using plastic bags;
Teach your kids. Make it a family tradition.
Have a tote bag already? Please don't use it as a regular bag. It's a bag for your food whenever you shop. Practice food safety - even when shopping. Bring a small and clean cooler for your meat products. Add ice if your shopping is longer than expected.
Other tips - Bring your own tupperware when eating out; most restaurants charge extra for take out containers;
Carry your own water container wherever you go; and
Bring your own carafe whenever and wherever you order coffee
Plastic Bag Fact sheets - The Problem
Factsheet Credit: Lisa Huynh-Eller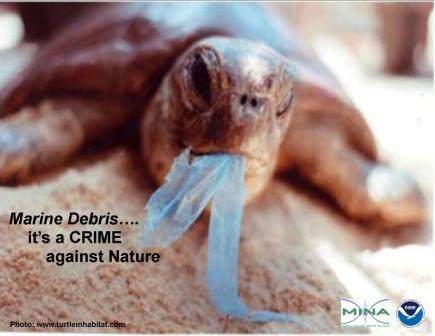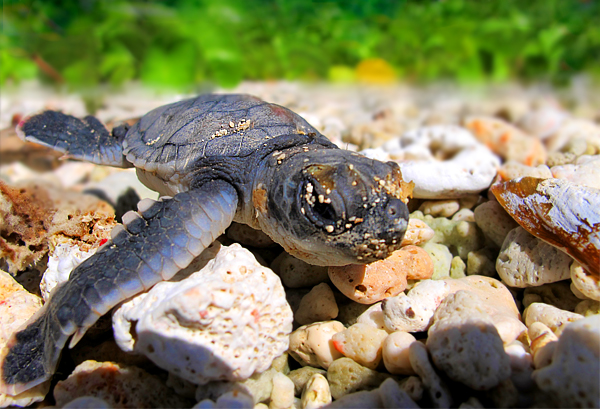 Dangers to Marine Life - The CNMI waters are home to sea birds, turtles, fish, whales and dolphines, and many other organisms. These animals have been known to mistake plastic bags for jelly fish, a common source of food, or to accidentally ingest plastic bags while feeding.
Dangers to Human Health - When plastic bags enter the ocean, the sun and water slowly breaks them down into smaller pieces of plastics. These pieces are eaten by fish, crabs, and lobsters - all animals we like to eat. When we eat fish, we are likely consuming toxic chemicals that are found in plastic. These toxic chemicals have been found to cause birth defects, effect immune system function and decrease fertility.
Did you Know ......
Between 500 billion to 1 trillion plastic bags are used worldwide every year (U.S EPA)
In the CNMI, 1 vendor brings in 1 container (20 ft) full of plastic shopping bags ONLY every six months
It is estimated that 100,000 whales, seals, turtles, and birds die each year from plastic bags ingestion (World Wildlife Foundation)
Less than 1% of the world's plastic bags are recycled. The rest end up as litter or in landfills
China will save 37 million barrels of oil by banning free plastic bags
The Solution is Simple - Reduce, Reuse, and Recycle
| | | |
| --- | --- | --- |
| | | |
| Stackable Bins | Recycled Bins | Reusable Bags |
Want to make a difference? Know the issues, get involved. Volunteer now and become an environmental steward ....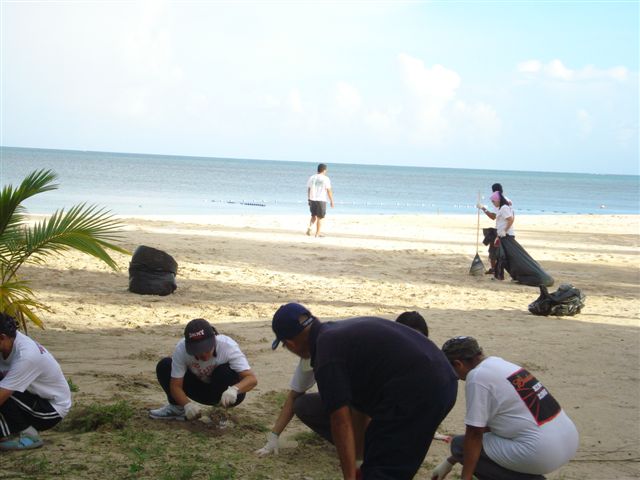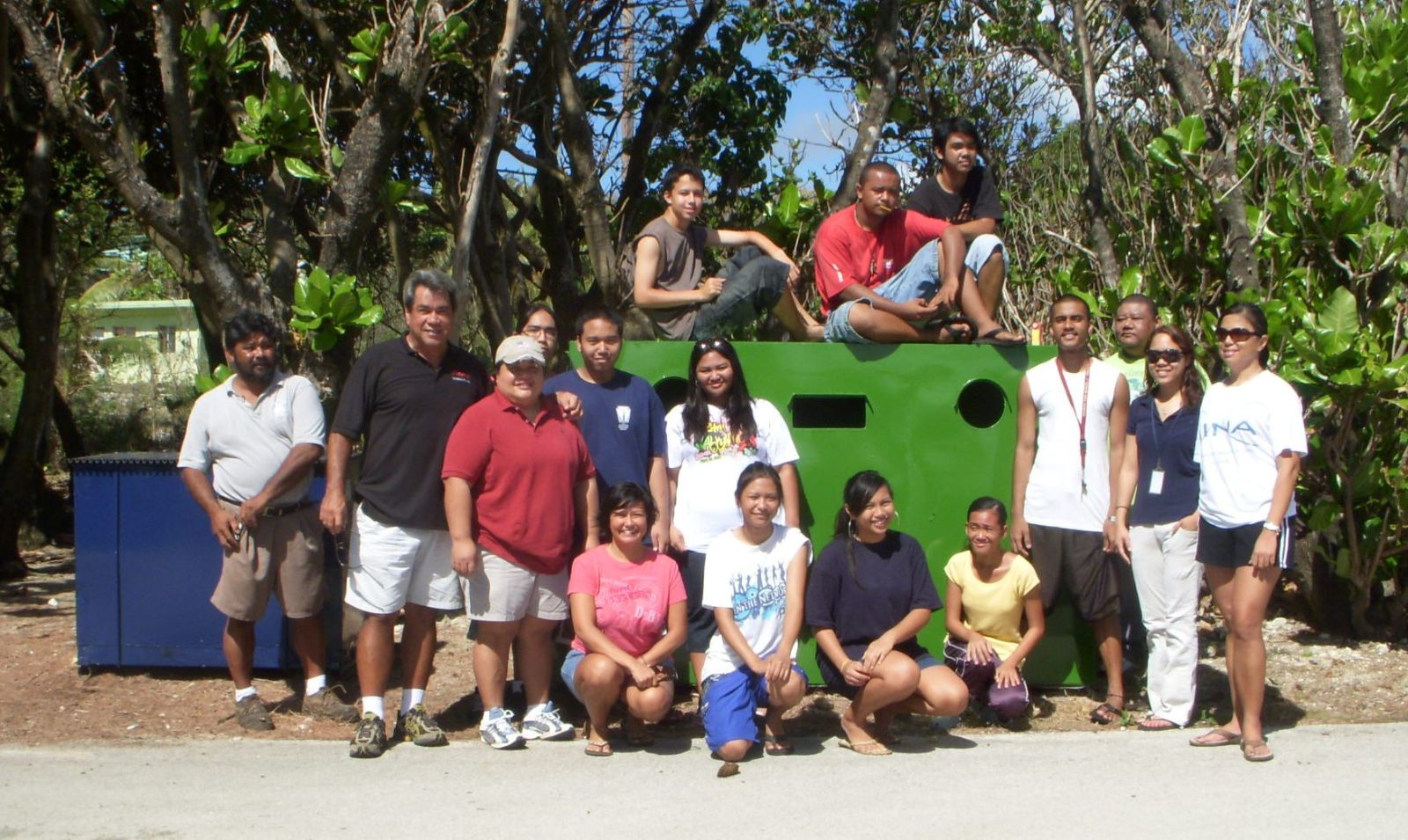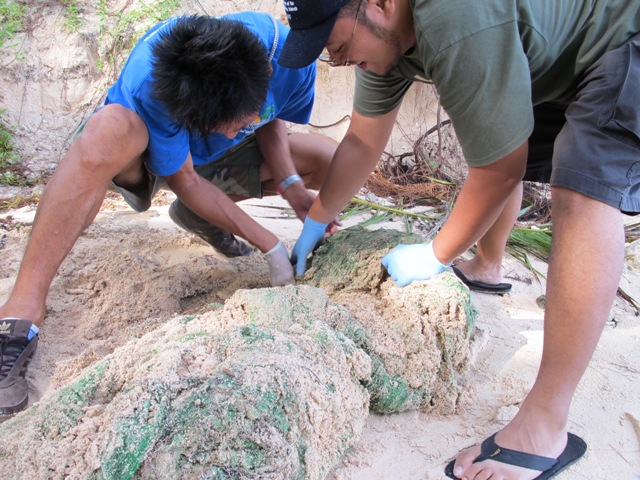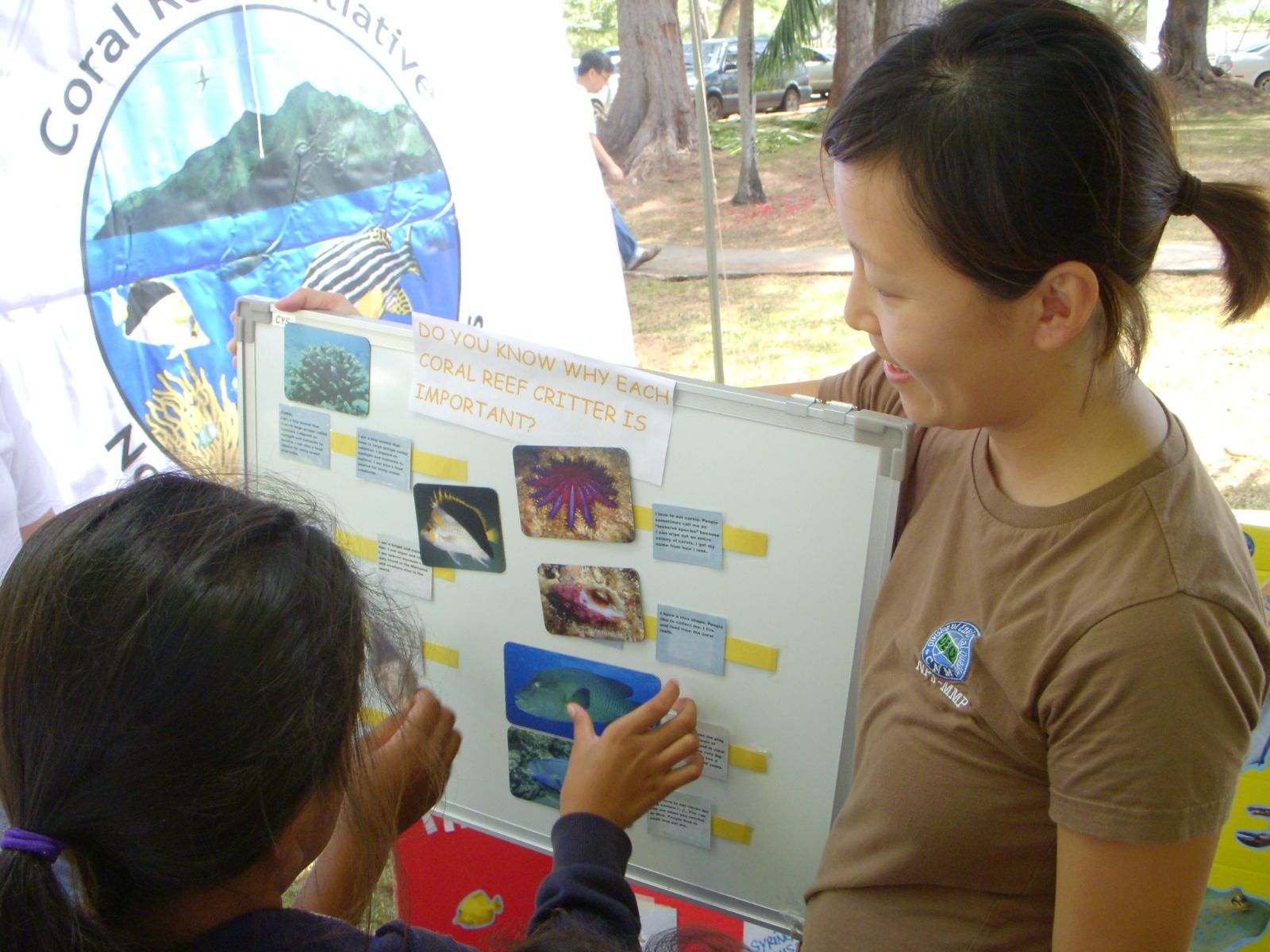 MINA Promotes Marine Debris Prevention
Saipan's reefs and marine habitats are at risk from litter washing into the surrounding waters and becoming marine debris. Saipan's most commonly littered items include: cigarette butts and packaging, pull tabs, plastic bottle caps, and juice box straws and wrappers. These items may seem too insignificant to be considered litter by the people who carelessly drop them on the ground, but this type of debris is not only unsightly; it poses a risk to marine life from toxicity, entanglement, and smothering from its ingestion.
Even small bits of marine debris can last for years in the environment before degrading. NOAA's Marine Debris website reports that cigarette butts can last up to five (5) years, aluminum cans 200, plastic bottles 450, and monofilament fishing line up to 600 years.
"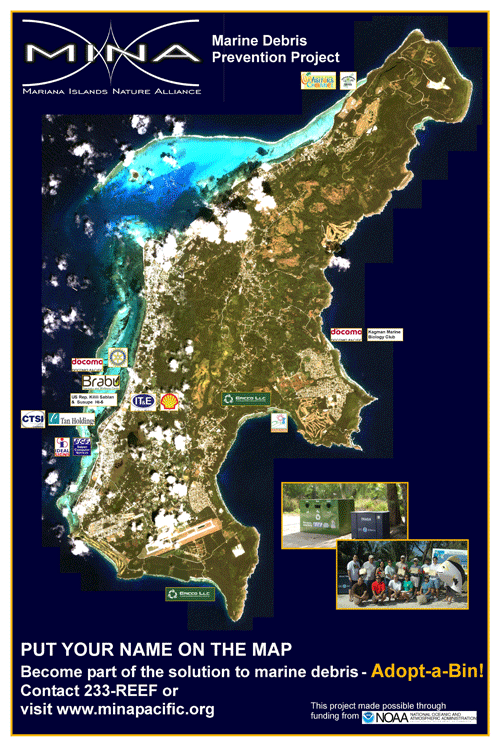 MINA has found that beach clean ups alone are not the answer to marine debris. The barrier to proper waste disposal must be addressed as well. In response MINA proposed and was awarded a grant by the NOAA Marine Debris Program to place conveniently located recycling and mixed waste bins for public use and provide trash collection services at popular beach sites.
Thus far, funding has paid for the fabrication of 17 weather resistant recycling and mixed waste bins thus far at Saipan's most popular beaches and tourist sites. Ericco Enterprises began installing bins at the end of March 2010. Weekly trash collection services commenced immediately. Thanks to the many individuals, families, and businesses that have become part of the solution by "Adopting-A-Bin" we have prevented over17,000 lbs (nearly 8 metric tons ) of trash from becoming marine debris since then. 43% of this trash was separated for recycling!
All our adopters have also agreed to clean up their sites on at least two occassions this year and pay for one year's worth of trash collection services. Trash collection costs a mere $1,000 for a full year and is totally tax deductible. Our present Adopters are:
In return, the Adopters logo is displayed on their bin, and they will be internationally recognized as one of Saipan's eco-friendly and community-oriented businesses in a documentary to be shown at the 25th US Coral Reef Task Force meeting next year in DC.
Please act locally! Before the sun goes DOWN on your fiesta, remember to pick it UP, and THROW it in an Adopt-a-bin. It's that easy. If you would like to learn more about what you can do as a resident to prevent marine debris, please view our presentation here. For more information about how you can add your name to the map please call 233-REEF or contact our Project Manager, Jolly Ann Cruz at minaoutreach@gmail.com
Call for Marine Debris Prevention Outreach Volunteers
MINA is looking for outgoing individuals to volunteer their time to help raise community awareness about the hazards posed by marine debris. Litter left on the ground makes its way into our ocean environment; much of it never fully degrades and continues to circulate in what's come to be known as the Great Pacific Garbage Patch (http://marinedebris.noaa.gov/info/patch.html).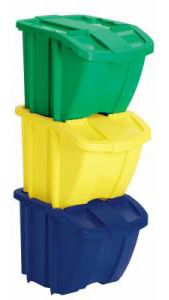 MINA is asking for volunteers to help reduce marine debris by promoting an island culture of proper waste disposal and recycling. Volunteers will spend just a few hours each week on the beach engaging visitors and asking them to use public recycling and trash bins that have been adopted by several local sponsors who pay for their regular trash collection.
Volunteers will be equipped with garbage bags to hand out to beach-goers, and laminated fact sheets that explain the hazards posed to marine life that ingest marine debris or become entangled in it. For their efforts, volunteers will earn a limited edition T-Shirt that they will help design, and a set of 18 gallon UV resistant stackable recycling bins for their home or school.
To learn more about this project made possible through funding from the NOAA Marine Debris Program and how you can volunteer, please contact MINA's project manage Jolly Ann Cruz at minaoutreach@gmail.com
---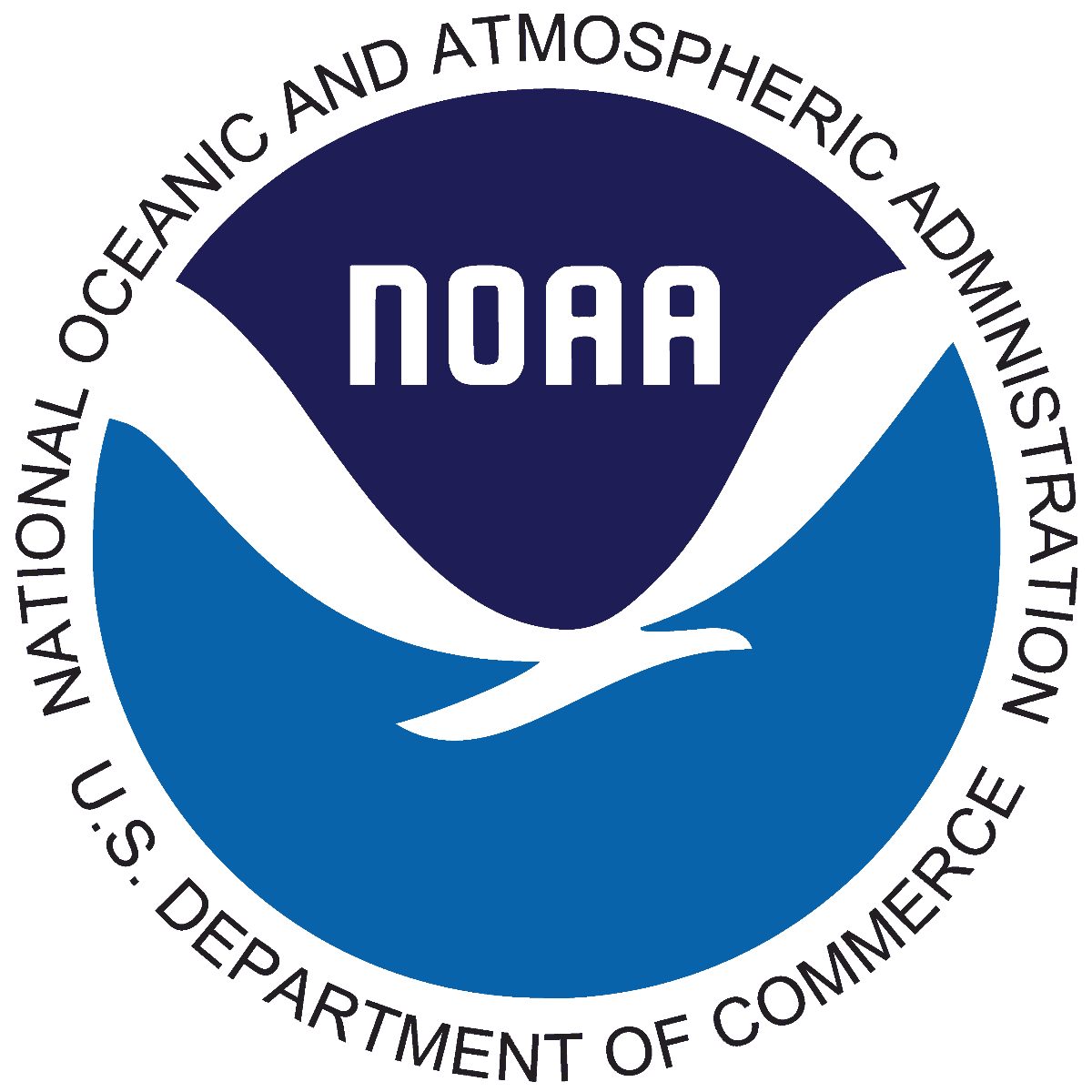 Funding is provided by the NOAA Marine Debris Program
Last Updated 1/3/2022